COVID-19 Questionnaire
To help maintain the safety of all students, your school may require that students complete a COVID-19 Questionnaire before they arrive at an externship, clinical, or on-ground course. Within CourseKey you'll be prompted to complete a brief questionnaire, and based on your responses you'll be provided with a digital green or red card.
Important: The personal information that you provide in response to this COVID-19 Questionnaire will be shared on a confidential basis with your institution's COVID-19 administrator to support your institution's efforts to ensure the safety of all students.
Accessing the Questionnaire
When you open the CourseKey app, each day you'll see a prompt with the following question: "Will you be visiting a physical site in association with your program today?"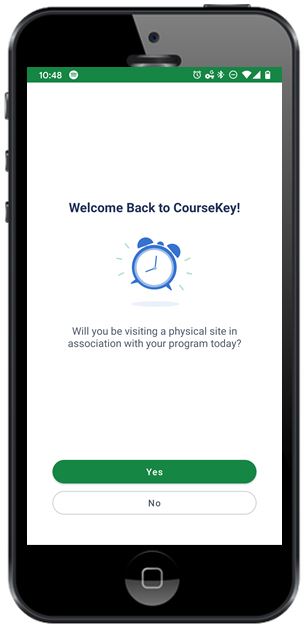 No, I do not plan to visit a site.
If you will not be visiting a physical location that day you can choose to bypass the form and continue using the CourseKey app as needed.
Yes, I plan to visit a site.
Select yes if you plan on visiting any physical location that day. The questionnaire will be displayed with a series of yes or no questions. If you choose to complete the form each question must have yes or no marked on the available radio buttons to proceed. Select the checkboxes at the bottom of the form if you agree to the terms and conditions and certify that your responses are true and accurate to the best of your knowledge. Select Submit to confirm your responses.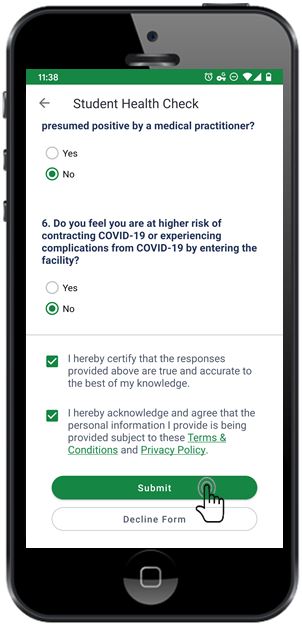 Green Pass
If you are cleared to visit the site you'll receive a Green Pass for the day. The pass should be displayed to your site administrator upon entering the building.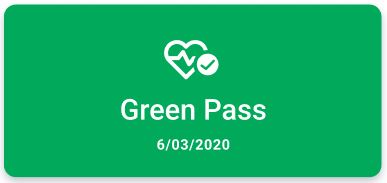 Red Card
After you submit your responses you'll be issued a red card if one or more of your responses requires follow-up with your COVID-19 site administrator before you will be allowed to visit the site. A button will be available in the app to open an email to communicate with the designated administrator. Please contact them at your earliest convenience. Do not go to the site.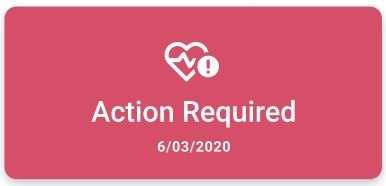 Open Your Card
After completing the questionnaire a green or red card will be stored within your account profile. This can be accessed at any time throughout the day, and it will expire at midnight. Follow steps 1 & 2 listed below to access your card.
What if I accidentally said 'No'?
If you accidentally said 'No you will not be visiting a site' or if you had a change of plans, you still have the option to complete the form. Accessing the COVID-19 Questionnaire from your account profile will ask you the question again "Will you be visiting a physical site in association with your program today?". Select Yes to access the form.
Follow these steps to open your card or return to the COVID-19 Questionnaire form:
1. Within the CourseKey app select the avatar icon to view your account/profile.
2. Select Student Health Check under account details.