Update Student Enrollment
School administrators can add or drop a course from a student's CourseKey account within the User Management feature in the Admin Portal. This option is beneficial for last minute additions or any time you want a fast and easy way to update student enrollment in CourseKey.
Note:
If you have a several students to enroll in a course you may want to consider updating enrollment in bulk. Check out this article for additional information:
Add a Course
1. From within Admin Home click on Users in the top navigation.
2. Search and select a student from the table display.
3. Select the Add Course button in the top right corner of the student account details.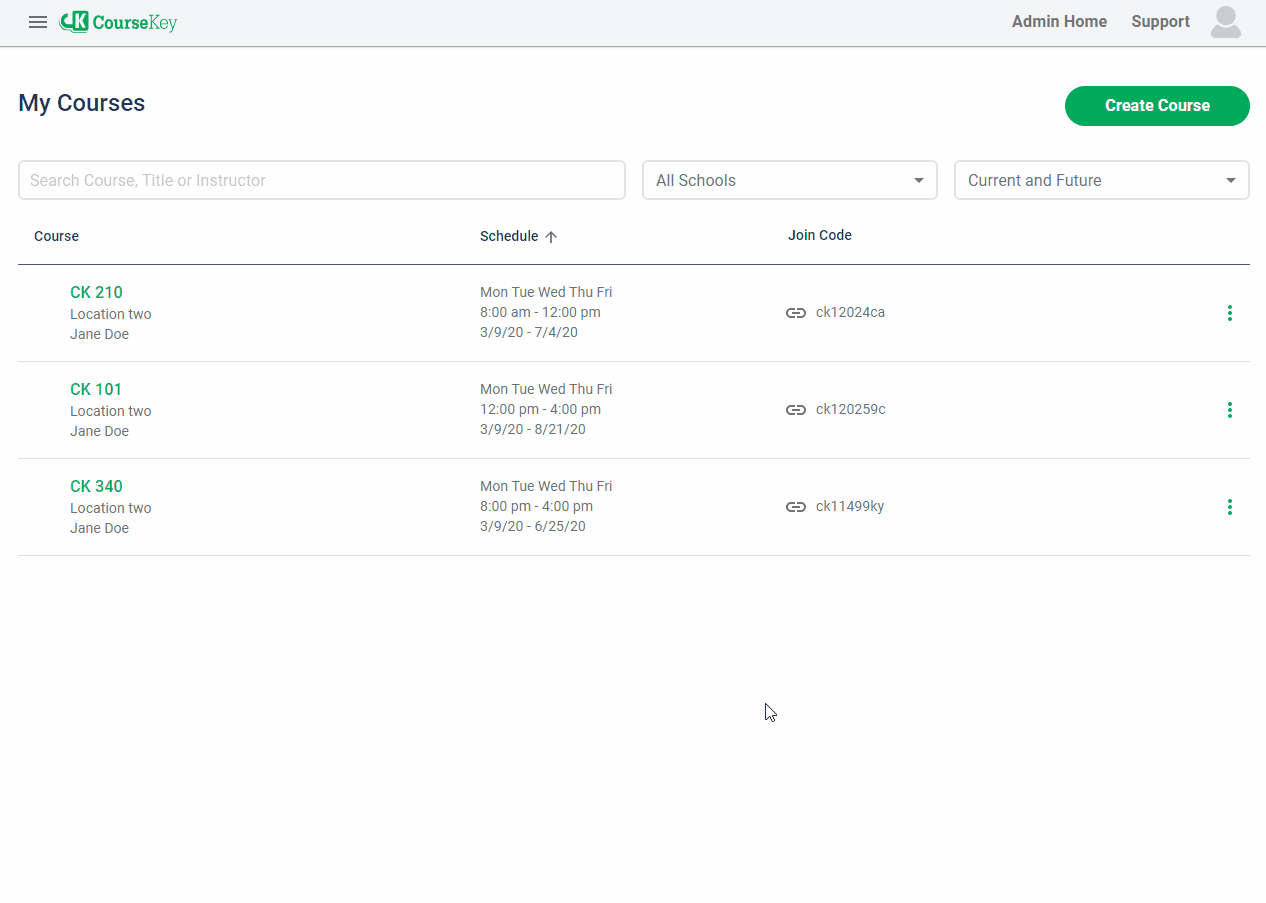 4. Locate the course(s) you want to add to the student's account.
The initial list will display all courses in alphabetical order. On the right hand select the course status (determined by the scheduled dates of the course). If the course is in progress select 'Current'. If it is an upcoming course select 'Future'. You can further refine the results by entering a search term such as the course name, instructor name, or join code or filter the results by school/campus.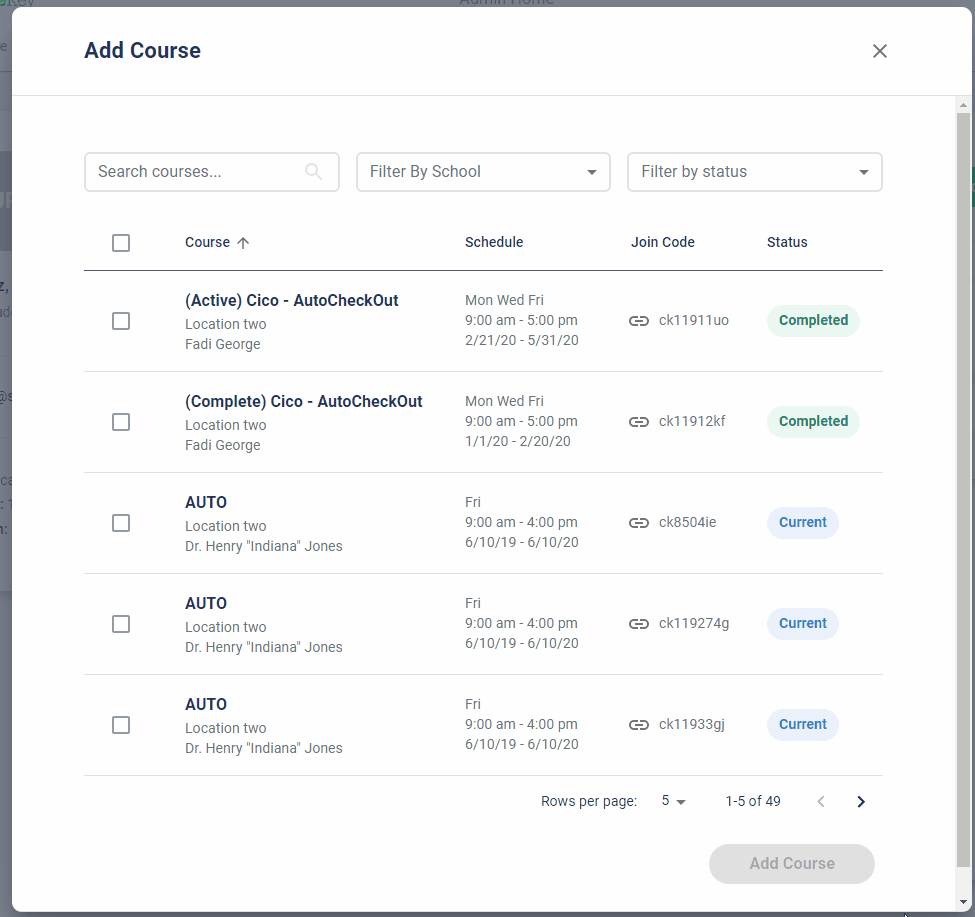 3. Select the Course(s) you wish to add by selecting the checkbox to the left of the course, which will turn it green.

Note:
Selecting the checkbox at the top of the course list will select all courses that match your search criteria (including the courses listed on any following pages).
If the student is already enrolled in the course it will be indicated with a grey checked box. (We'll cover how to drop a student from a course later in this article.)

4. Select Add Course to complete the enrollment process.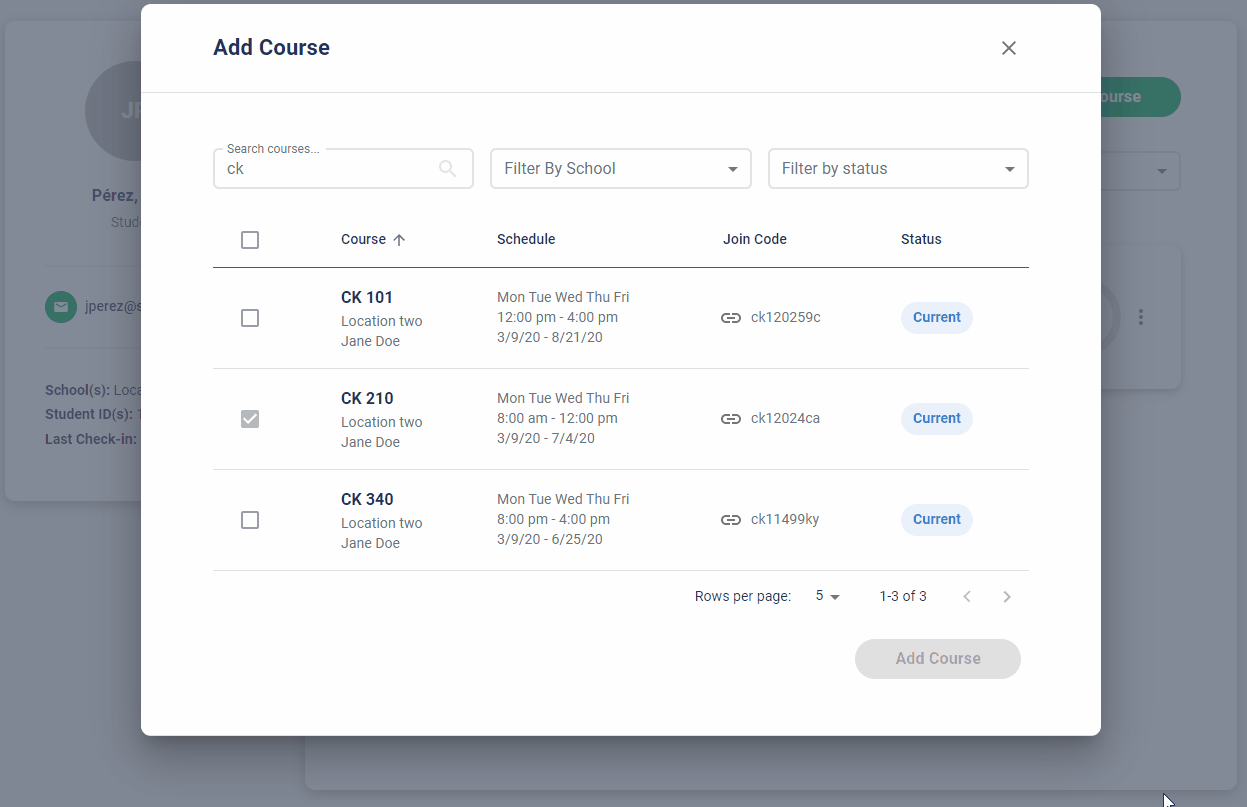 Drop a Course
On the student's account details page school administrators can drop the student from any of the courses they are currently enrolled in. Once dropped, the student will no longer be able to access the course. The student's records will be archived in the course gradebook, but they will remain available within the student's account details in User Management.
1. Locate the course you want to drop and select the three dots on the right side of the tile for More Options.
2. Select Drop Course.
3. A pop-up will display the course information. Select Drop to confirm.