How to View Your Records
The gradebook in each of your courses contains a summary of your attendance records and details for each session.
Locating the Record Tile
1. Log in to the CourseKey mobile app and below the Activities tile you should find the Records tile which will give you two records to view:
a. Attendance - Tap to view your attendance records.
b. Assessments - Tap to view your assessment records.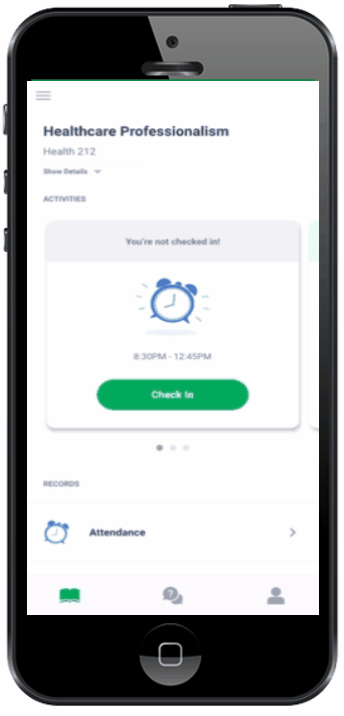 Attendance Record Details
At the top of the attendance gradebook you'll see a summary of either the Total Attended Points or the Total Awarded Time for that course. Beneath the total, you'll see the time or points awarded for each completed attendance session. Selecting an attendance session will show a detailed view that includes information such as your check-in time and adjustments made by an instructor.
Adjustments
If an instructor or school administrator has made an adjustment to your attendance gradebook the attendance session will be marked with a blue flag. View the attendance details to find the reason for the adjustment.

Did Not Check Out
Some schools have a policy that requires students to check out at the end of class or when they leave an externship. If this applies to your course and you did not check out you will see a red hexagon next to that attendance session. It's best to contact your instructor or school administrator to get this resolved.

How To Filter Records
Students can now filter their attendance records by type to quickly find what they are looking for. Filters in attendance records will help students quickly find where they've missed hours, completed hours, or where hours have been adjusted making visibility into progress easier to obtain.
1. Select "Attendance" under records
2. Select "Filter by" drop-down and select any type of attendance record you would like to view
3. To check Asynchronous records, select "Asynchronous" and select any type of attendance record you would like to view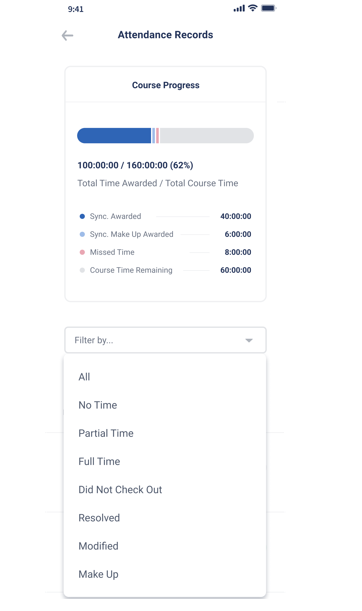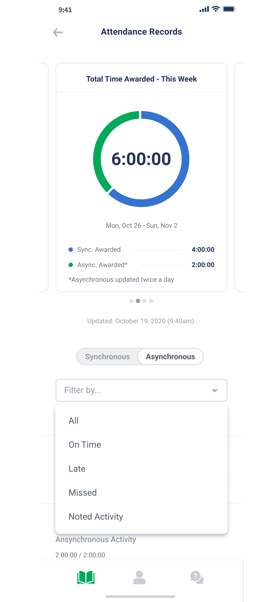 Instructor Status Changes
If an instructor manually makes a change to your attendance, their name will be displayed next to the record in the details view.

Assessment Record Details
Beneath the Total Assessment Points earned you'll see how many points you've earned out of the total possible points for each assessment. Completed assessments can be selected to view the individually graded questions.
Awarded Points/Points Value
In the assessment details, each question will display the Awarded Points and the Point Value. Point Value indicates the total points possible for that question. Awarded Points are the total number of points earned for correct answers. Questions that are not set to be scored automatically will need to be reviewed by your instructor which means the Awarded Points may be applied at a later time.
Answer Color Guide
The assessment details will identify which answer was chosen, whether it was correct or incorrect, and the actual correct answer.
Not Attempted
If you did not start an assessment it will show as Not attempted and the assessment details cannot be opened.
Note: CourseKey does not make changes to student records. If any changes are needed please contact your instructor or school administrator.