Ask the Professor
Students can communicate directly with their instructor by using the CourseKey Ask the Professor feature within their course.
Creating a New Question
1. Open the CourseKey mobile app and select a course.
2. Press the Ask the Professor tile.
3. Select a topic from the drop-down menu.
4. Enter the text for your question. (Select the paperclip icon and follow the prompts if you want to upload a file.)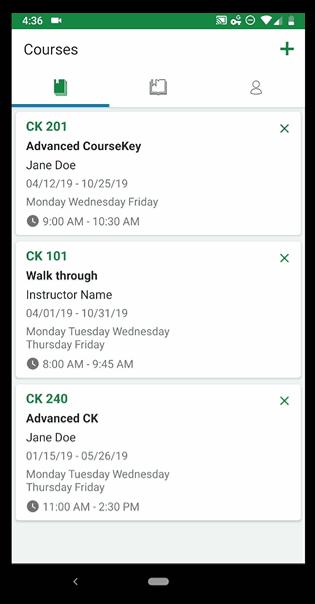 Note:
You will have the option to check the box to "Ask anonymously". This does not hide your name from your instructor. This will disguise your name if your instructor is displaying the list of questions to other students, but your instructor will see your name associated with your question.
5. Press Send when finished.
View Responses and Reply
When an instructor responds to your question a blue dot will appear on the Ask the Professor tile within your course. You can view the responses and send a reply under the My Questions tab.
1. Select the Ask the Professor feature and navigate to My Questions.
2. Select a question.
3. Press Reply to add another message to the thread.
4. Enter your message or select the paperclip to attach a file.
5. Press the green arrow to send.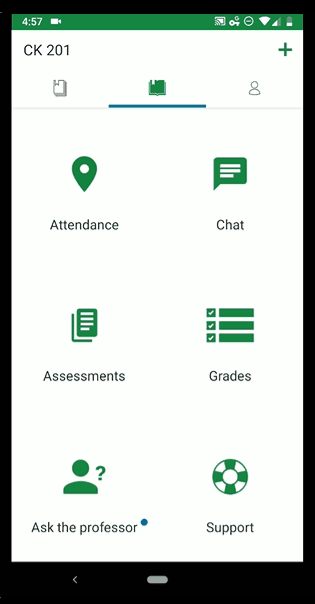 Archiving Questions
When viewing a question you can select to archive the question to remove it from your inbox. To view your list of archived questions, click the three vertical green dots near the My Question navigation tab and select View archived. When viewing an archived question you'll have the option to Unarchive and return the question to your inbox.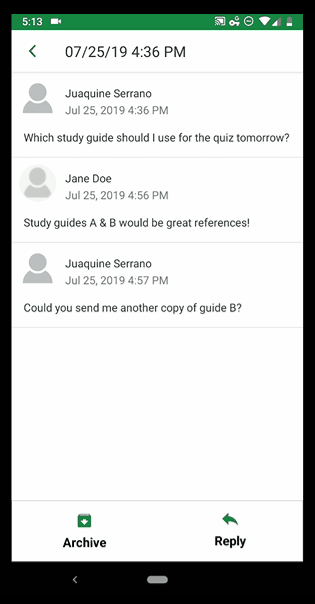 Note:
Archiving a message will not remove the message from your instructor's inbox.