Live Attendance
CourseKey's live attendance dashboard provides campus leadership with optics into class-by-class attendance behavior in real-time, making it easier for campus leadership to spot classes with low attendance. You can easily sort through which courses you want to view, and with the color coded dashboards you can quickly identify attendance check-ins and dive in for a detailed view of each student in the class.


Note:
Only administrators with editing permissions will be able to adjust a student's attendance status through the dashboard. Additionally, time windows for editing can be applied to the school to limit when adjustments can be made.
Viewing the Dashboards
Live attendance can be viewed in the Admin Portal with data for all courses at the campuses associated with your account. This is only available to users with the relevant permissions.
1. Log in to your account on the web application and click on the Admin Home button in the top right corner of the screen.
2. Click on Live Attendance in the top navigation.
3. Select your School.
If you're affiliated with more than one school or campus, you can choose which location you'd like to view from the drop down menu. You can also choose to view courses from all schools and campuses you have access to.
4. Filter the courses by the status of the attendance session: Active (attendance is still in progress), Scheduled (not yet started), Completed, or All. 
5. Select the Date you want to view.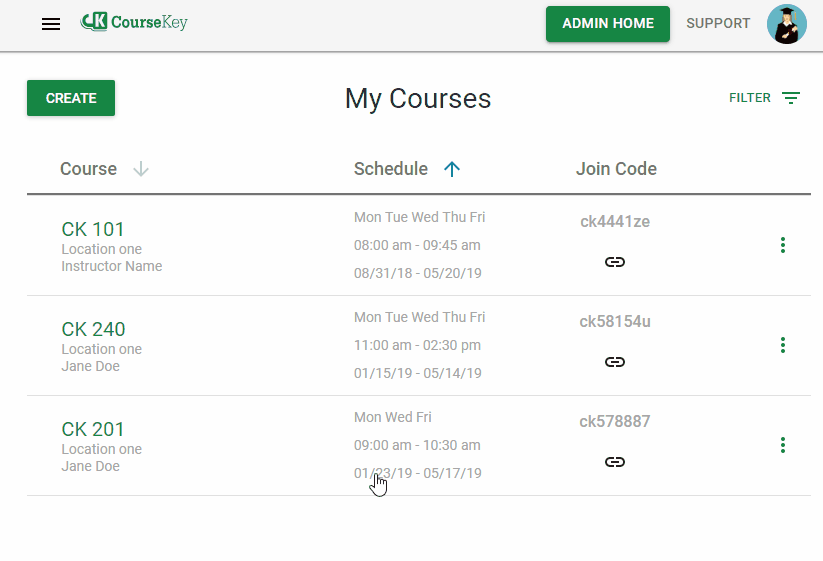 6. Enter your Search terms. (Optional)
In the search bar you can enter a course name, title, or instructor.  Press the enter key, or click the magnifying glass to initiate the search. If more than one search term is entered, the filter will show courses matching any of the search terms.  
Attendance Details and Edits
Clicking on any Active or Completed course on the dashboard will retrieve the daily Attendance List for the class.
In the status view on the attendance list pop-up you'll see each student's check in status marked on the radio buttons.  Clicking on the up or down arrows next to the column headers can allow you to easily sort through a large list of students, or you can find a specific student using the search bar in the top right corner.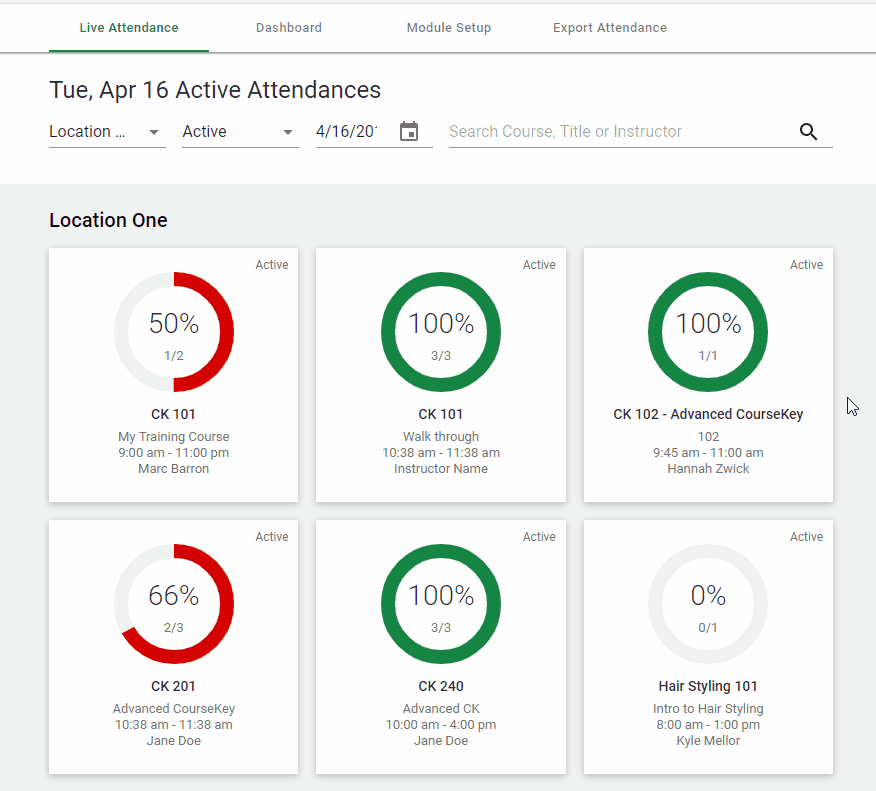 For information on editing attendance check out the following articles:
How to Edit Attendance for Time Based Courses
How to Edit Attendance for Points Based Courses