School Dashboards
Dashboards are available for school administrators to provide a quick visual overview of student attendance data, course creation within CourseKey.
Accessing the Dashboards
1. Log in to your account on the web application and click on the Admin Home button in the top right corner of the screen.
2. Click on Dashboard in the top navigation.

3. Information will be shown for all campuses by default. From the Select School drop down, you can select which campus data you would to include in the dashboard view.

Dashboard Overview
After selecting which campuses you'd like you include, the dashboard will give you a brief overview of the following topics: Adjustment Types, Break Durations, Site Locations, New Course Creation, New Student Enrollments, and Absent Students Now.
Absent Students Now
This report, located at the top of page, provides a list of all students at the selected campuses that have not checked in to a course that is currently active. This report makes it easy to identify which students need outreach and simplifies the process by providing their contact information.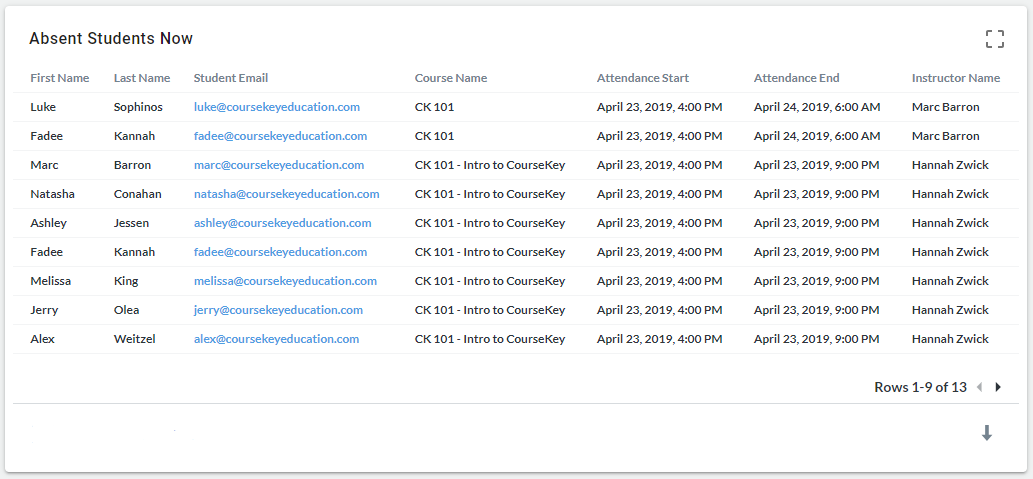 Dashboard Options
Each report provides the option to expand or download, and some will provide filters or arrows to scroll through rows of data.
Expand a Report
1. Locate the specific report you want to expand and click on the icon in the top right corner.
2. A new page will open showing only the selected report. To return to all reports click the arrow next to Back to Dashboard in the top left corner.
Download a Report
1. Locate the specific report you want to download and click on the down arrow in the bottom right corner.
2. Select a file type and your download will begin.
Scroll Through Rows
If additional data is available you'll see the number of rows listed along with arrows to scroll in the bottom right corner of the report.