Insights Dashboard
The Insights Dashboard provides school administrators a quick visual overview of student attendance data, course adjustments and sites within CourseKey.
Accessing Insights
1. Select the Dashboard tab in the left navigation bar.
2. Select Insights from the secondary left navigation.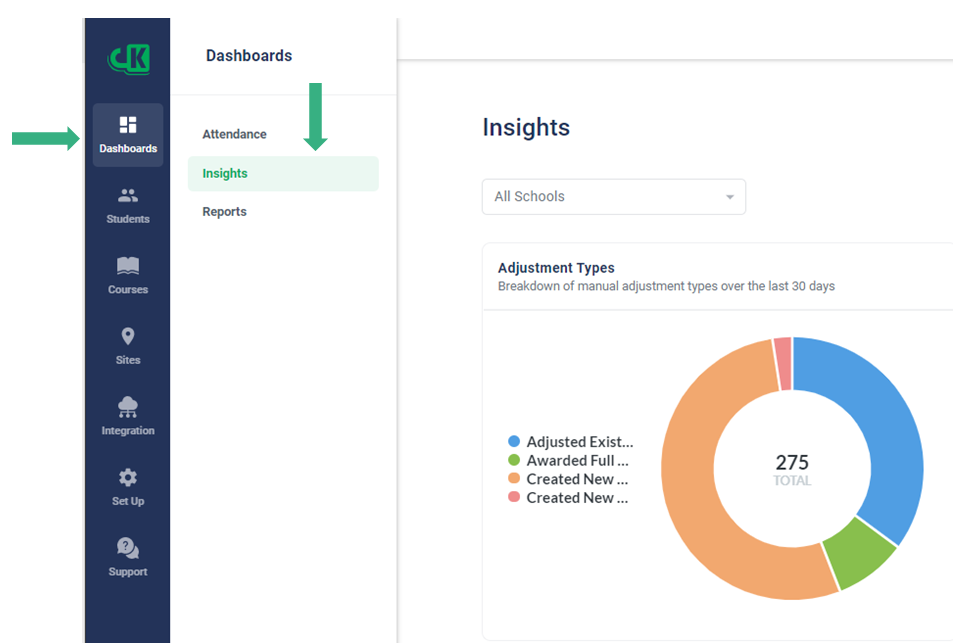 3. Information will be shown for all campuses by default. From the Select School drop-down at the top of the page select which campus data you would to include in the dashboard view.
Dashboard Overview
After selecting which campuses you'd like you include, the dashboard will give you a brief overview of the following topics: Adjustment Types, Break Durations, Site Locations, New Course Creation, New Student Enrollments, and Absent Students Now.
Adjustment Types
This report, located at the top of page, allows you see a breakdown of attendance adjustment types used across all courses over the previous 30 days. Hover over any section to view the percentage.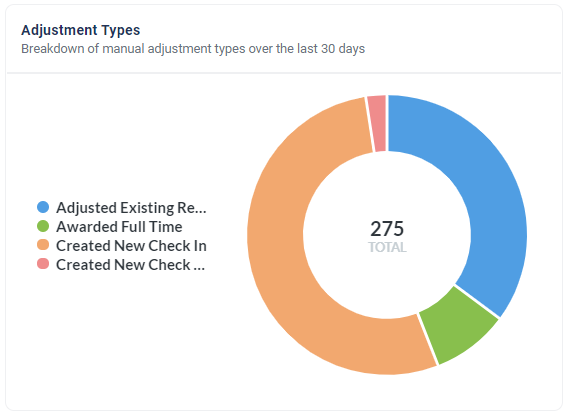 Break Durations
Take a quick glance at the Break Durations report to identify how frequently courses are using the 'Take a Break' button, and their set break length. (Note: this report does not include student initiated breaks.)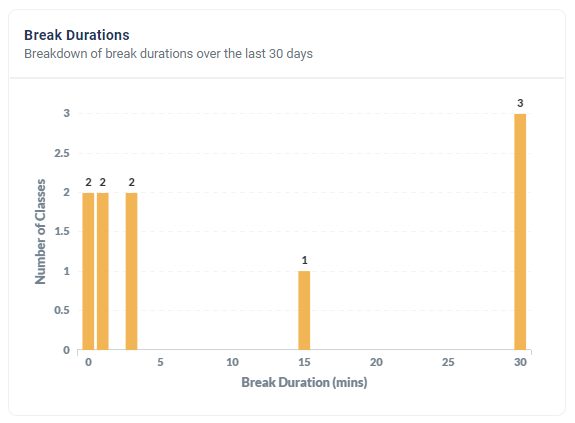 Site Locations
In the map view you'll see a pin for student check-in/out locations. Zoom in for a closer look with the +/- controls in the top right, or hover over a location for the site name.

New Course Creation / Student Enrollments
Check out the recently created courses and student enrollments at the selected campuses.

Absent Students Now
This report, located at the bottom of the page, provides a list of all students at the selected campuses that have not checked in to a course that is currently active. This report makes it easy to identify which students need outreach and simplifies the process by providing their contact information. If additional data is available you'll see the number of rows listed along with arrows to scroll in the bottom right corner of the report. You can also sort by any column by clicking on the column header.