Testing Your Speakers for Sound Attendance
Sound attendance uses ultra-high frequency tones to check students in. The tones are undetectable to the human ear, so it's helpful to check to make sure your speakers are working properly by testing them with an audible sound. The CourseKey platform provides an easy to use Speaker Test for this purpose.
Using the Speaker Test
When a sound attendance session is started for your course, you will be prompted to test your speakers. A pop-up will appear on your screen and play a test song. Do you hear music?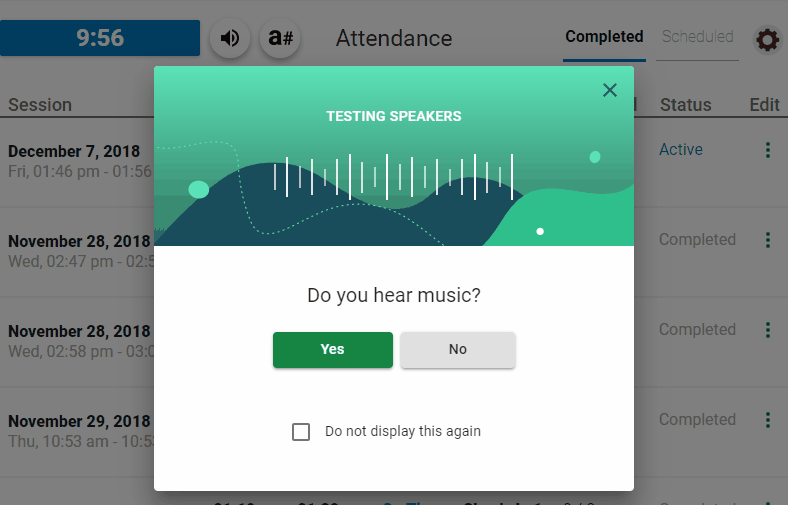 A. Yes
Great! That means the ultra-high frequency tones are broadcasting properly to your students' devices. If the music is playing quietly, you may want to turn up the volume.

Click 'Yes' to close the pop-up. The tones will continue running for the remainder of the attendance time, letting students check in and out as necessary.
B. No
When you click 'No' you'll see some troubleshooting suggestions. Check to make sure your speakers are turned on and that your volume is turned up.
Click Retry to play the music again. 
If you are still unable to hear the sound there may be an issue with your speakers. You may want to try another device.
Output Device
In the Output Device drop-down, you'll see all speaker systems connected to your device. You can switch to a different set of output speakers by selecting a different option than your default speakers.  
Note:
The Speaker Test will occur automatically each time a sound attendance session starts. If you wish to opt out of the automatic test and are confident that your speakers will work properly, you can check the box next to Do not display this again before clicking 'Yes'.
Manually Initiating the Speaker Test
The Speaker Test can be started manually if a) there is not an active attendance session, or b) you previously opted-out of the automatic Speaker Test. To access the Speaker Test, follow these steps:
1. From the Attendance page click the Settings Icon (Gear Icon) in the top right corner of the page. 
2. Select Test Speakers.