Sound Attendance
CourseKey's sound attendance technology uses ultra-high frequency tones to allow you to easily check-in and out of class. The tone, undetectable to the human ear, is projected from a speaker in your classroom, and with a touch of a button, it is received by your mobile device to verify and track your attendance.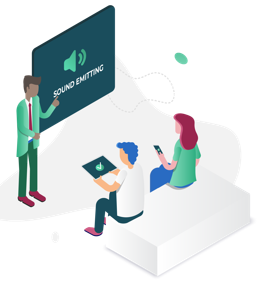 How do I check in for attendance?
Select your current class and when the attendance session is active tap the Check In button.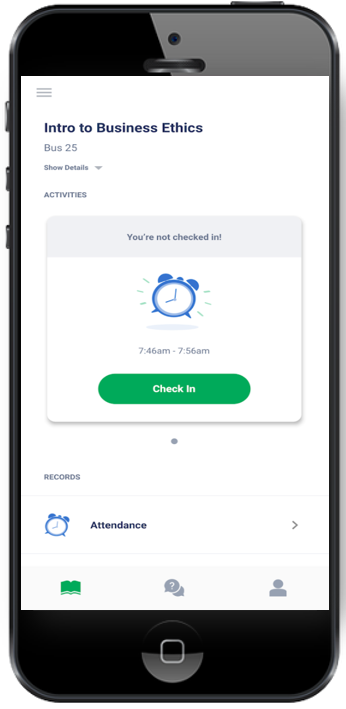 If it is your first time checking in for attendance, you will be prompted to enable your microphone. CourseKey will only access your microphone when checking in for attendance, and this step should only need to be completed on your first check-in.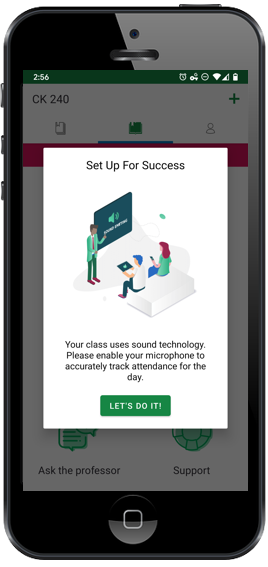 That's it! If attendance is currently available for your course, your device will listen for the check-in tone to verify your location and confirm it was successful.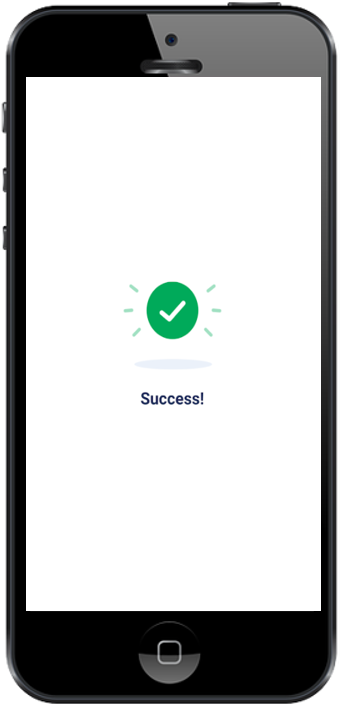 What if I get an error that says "No Active Attendance"?
This message is letting you know that the attendance session has either not yet started or has already been completed. You will also see the details of the last session.
If you miss the session you can speak to your instructor regarding the course policy.




CourseKey Support does not make changes to attendance grades.
What if I get an error that says "Could Not Detect Sound"?
If the check-in tone is not being received, here are some things you can do to help fix the problem.
The check-in tone does not travel through walls, so make sure you're inside the classroom.

Move closer to the speakers.

Make sure nothing is blocking the path between the mic on your device and the speakers your instructor is using to project the check-in tone.

Point your microphone directly towards the speakers.

Ask your instructor to turn up the volume.

Bluetooth speakers will block your device from picking up the check in tone, so be sure to disconnect from any headphones before attempting to check in.
Still Not Working?
Restart your device.

Uninstall and reinstall the CourseKey app.

Contact support by submitting a ticket through the mobile app, or emailing support@coursekey.com